Vrijdag 10 augustus
Wawa – Tombos  135 km
After a hot trip through the desert , a visit to the third cataract with a beautifull view of the Nile Vally
we arrived at our Nubian guesthouse in Tombos. During the night there is a sandstorm and in the distance lightening.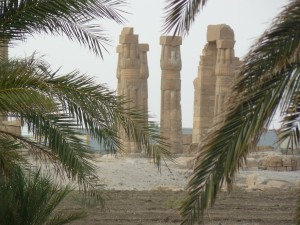 Ben en Joke zijn met Ghalid s'ochtendsvroeg naar de Soleb tempel aan de westzijde van de Nijl geweest.
eerst lopen we door de vallei van de Nijl, waar boeren op het land aan het werk zijn. Met een motorbootje gaan we naar de overkant.
De Nijl stroomt hier snel en er kan niet in gezwommen worden, omdat hier krokodillen leven.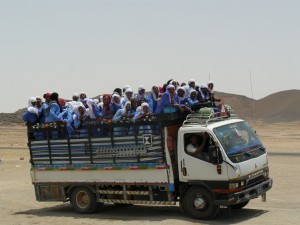 Om 11.00 uur vertrekken wij uit Wawa.Na een ritje door het zand bereiken we de goede asfaltweg, weer dwars door de woestijn.
Iedereen vindt het ook vandaag weer heet, zelfs de Sudanesen hebben overal zweetplekken.
Aan de voet van de 3e cataract vinden we een fijn schaduwplekje, waar we vis en brood en heerlijke ananassap en thee drinken.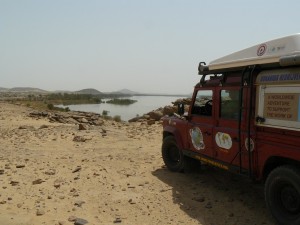 We verfrissen ons met het koele water uit de kruiken. Boven op de berg hebben we een magistraal uitzicht over de 3e cataract en de Nijlvallei.
Via een grindweg en hobbelige zandwegen komen we bij ons Nubian Guesthouse in Tombos waar we gastvrij met thee worden ontvangen.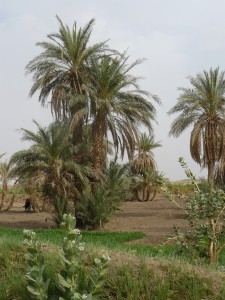 De bedden worden weer buiten gezet en iedereen ligt om 21.00 uur al te pitten. Hitte maakt moe en we willen morgen daarom vroeg op pad.
's Nachts begint het stevig te waaien en het zand vliegt door de lucht. In de verte weerlicht het voortdurend.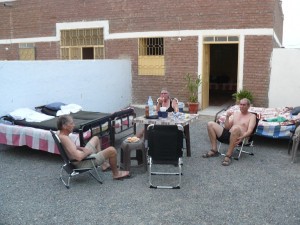 Ben en Joke