Woensdag 15 augustus
Atbara – Meroe – 102 km.
Yesterday evening there was a great sandstorm and the cars are covered with very fine sand.
In the morning it is cloudy and not so warm. We like that very much.
In the afternoon we visit the wonderful necropolis of Meroe.
We slapen uit en krijgen van het hotel thee op bed, alleen hebben wij dit niet door. We horen wel wat op de gang, maar denken dat er schoongemaakt wordt.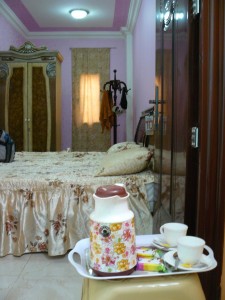 De auto's zitten onder een laag heel fijn zand. Het is zelfs dwars door de pyamahoes van de T-Ford gekomen.
Gisteravond viel even de elektriciteit uit. Er bleek een plotselinge heftige fijnzand storm te zijn. Gedurende 10 minuten was het heel fel en is daarna in 2 uur afgenomen.
Volgens Khalid werd iedereen door deze zandstorm overvallen en renden ze met een laag zand bedekt het hotel binnen.
Het is vanochtend bewolkt en daardoor ook niet zo warm.
We rijden nu over de nieuwe brug over de Atbara rivier met 4 rijstroken, maar toch in het begin nog een groot gat, waar het asfalt helemaal weggeduwd is.
Het is de weg van Port Sudan naar Khartoum met veel grote vrachtauto's, een drukke weg met langs de randen ontzettend veel restanten van gescheurde en gesprongen autobanden.
Langs de piramides van de nubische koningen, koninginnen en edelen, die we aan het eind van de midag gaan bekijken, komen we al net voor het middaguur aan in het Motel
De kamers van het Motel zijn ook door een laag zand bedekt en moeten nog eerst schoongemaakt worden.
Ben en Joke