For 13,20 euro we drive across the cable-stayed bridge to Peloponnese. We drive the 'fantastic onelane tollroad" to Corintha. Not all fast Greeks are happy with this.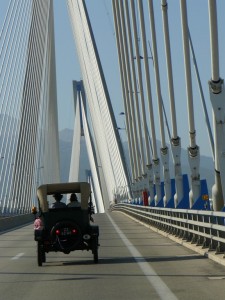 Zodra we kunnen gaan we hier af en vinden we een prachtige route langs de kust met vergezichten over bergen en baaien op weg naar Rozemarijn, die met de bus uit Athene komt.Wat een blije gezichten als Dirk en Trudy hun dochter weer in hun armen kunnen sluiten.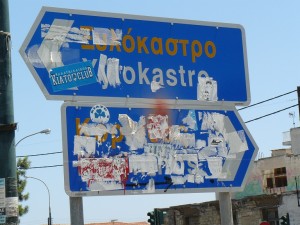 Het is heet in Griekenland ( 42 graden), zelfs voor de Grieken. Dus zoeken we een plekje aan het water om af te koelen.Inventief bouwen we een schaduwplek, eten en zwemmen. Kortom even tijd voor vakantie.We krijgen bezoek van een nederlandse jongeman en vrouw, die ook op wereldreis zijn ( www.amsterdamhobart.nl) en de T-Ford herkennen van een poster in Purmerend.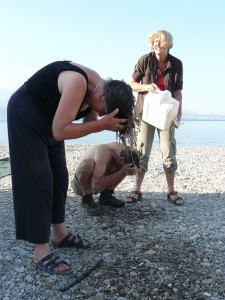 Op weg naar het kanaal van Corinthie merkt Dirk dat zijn horloge, dat aan het stuur van de T-Ford hing verdwenen is.Bij de boodschappen helpt een Griekse dame ons met het uitzoeken van Griekse lekkernijen ( kaas, salamie,visjes).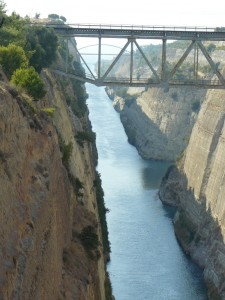 Na het avondeten op camping Glaros Beach blijkt de labtop en de tas van Trudy met verjaarspost verdwenen te zijn.Dus helaas geen verslag, maar verslagenheid. Dat betekent veel regelen. Lang leve de internettelefoon en de achterban in Nederland.
Ben en Joke