It has been very hot in Haifa and since we do not have our cars travelling is by public transport. When we finally found the bus we had to take we had a comfortable ride to Haifa.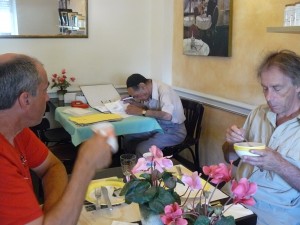 De hele ochtend zitten we achter de nieuwe laptop om de achterstand van de verslagen in te lopen.
Omdat we weinig tijd hebben, willen we een ritje maken met een toeristische bus (nr.99) langs de beroemde plekjes. Alleen……waar staat en blijft die bus toch?????? We kunnen er naar vragen, maar echte antwoorden komen er niet. Na drie kwartier wachten besluiten we naar Haifa te gaan. Dankzij de mevrouw van het hotel, die ons een computeruitdraai geeft, vinden we deze bus wel en zitten we om 15.00 uur comfortabel in een rechtstreekse bus naar Haifa. We leren steeds meer, want we hebben al op de computer in Jeruzalem een hotel in Haifa geboekt, zodat we hier meteen naar toe kunnen gaan. Toevallig gaat een man met vrouw en kinderen ook deze kant op en zo bereiken we makkelijk ons hotel.
Hier sjouwen we onze bagage 3 hoog de trappen op.Je kunt ons uitwringen, want alweer is het de heetste dag van het jaar volgens de locals.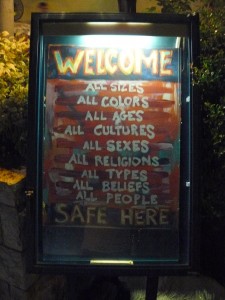 's Avonds lopen we door de stad naar de German Colony, een wijk waar allemaal gezellige eettentjes zijn en genieten we buiten van een heerlijke maaltijd.


Ben en Joke