Donderdag 19 juli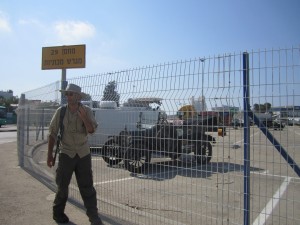 The main thing today is to get the cars from the Ferry and to pass the customs. This takes about 5 hours.  There is a problem with the land rover, he can't get start, his battery  is out of order. They fix this problem and the cars get out just for closing.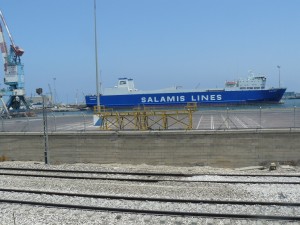 We splitsen: Trudy en Dirk gaan de auto's halen en Ben en Joke gaan Haifa verkennen. De teleurstelling is groot als blijkt dat de Shrine ( =graftombe) van de Bab net vandaag  gesloten is. Het is een heilige dag van de Bahai. Met prachtige onderhouden tuinen is dit zelfs voor ongelovigen een vredelievende heilige plek (www.bahai.org).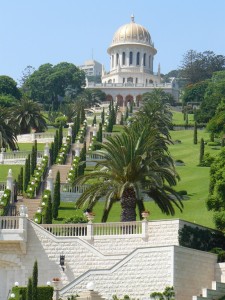 Daarna gaan we met de kabelbaan naar Stella Maris, waar je een prachtig uitzicht hebt over Haifa en de zee.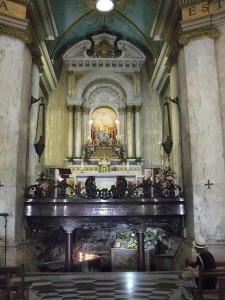 Ondertussen zijn Trudy en Dirk van het ene kantoor naar het andere gegaan en vullen zij vele papieren in. De ambtenaren vinden het allemaal erg ingewikkeld en hebben steeds met hun superieuren telefonisch overleg. Hun database gaat niet verder terug dan 1945, dus staat er in de papieren dat de T-Ford opeens dertig jaar jonger is. Na 5 uur worden de auto's vrijgegeven en moeten ze snel het terrein onder begeleiding het terrein verlaten, want ze gaan sluiten. Oei…. de landrover wilt niet starten, de accu is leeg en als ze er een startmachine opzetten, begint het alarm te loeien. Dirk heeft het nu toch echt benauwd, want het resetten van het alarm duurt een halve dag. Maar opeens …stilte. Het alarm is uit zichzelf gestopt. Nog net op tijd kunnen ze het haventerrein verlaten en worden ze onder gejuich opgewacht door Ben en Joke.
Ben en Joke