This morning Dirk and Mohammed, our guide, went to the harbor to get the right stamps on the car papers. We tried to mobilise as much people as we can: the ANWB (dutch organisation) the ADAC (german organisation), the Egypt Automobile club and the Dutch embassy in Cairo. Unfortunately without succes.
Because of  Ramadan the office closes between 12.15 and 20.00. For this morning: nothing has changed.
We stay in the Sayadeen Village Resort, a small guesthouses at the beach. Because there are only 2 or 4 other guests at the resort it's very quit. A shame, it's a beautifull place, with good food and very good care. We swim in the Red Sea, it's more floating than swimming but very refreshing.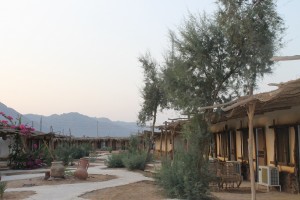 At 20.00 Dirk and Mohammed go back to the harbor, at 23.00 they get back disappointed an angry: the cars are not allowed to enter Egypt or we have to pay a large amount of money. While waiting Dirk studied the diffrent officers: at desk 1 an officer fills in a form (by hand, they don't use computers), this officer heads to his collegue at desk 2 who fills in an other form. Officer 2 walks to desk 3 and that officer puts a stamp on the form and walks to desk 4, etc etc. Very efficient… the whole office is filled with boxes of all kinds of papers.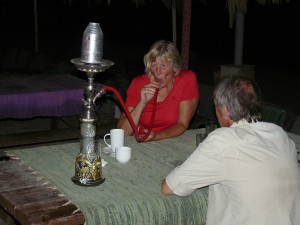 However dissapointing we end the day with a drink, a smoke of waterpipe, a dance on 70's music and a smile.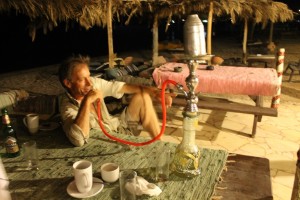 We are appreciating all the comments we are getting!