Verslag van zondag 8 juli 2012
Today we drove from Napoli to Potenza. The route was difficult because of the mountains and the high temperature outside. The Model T became to hot and cooked. After a search for a campground near Potenza, we finally found the very nice Bed & Breakfast Mattia, were we had a delicious diner with music.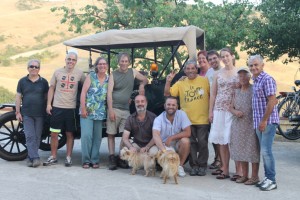 Vertrek van camping Vulcano Sulfatara richting Bari aan de Adriatische kust.
Vandaag weer opstaan met de geur van zwavelzuur, deze keer was de geur heftiger dan gisteren.
Het eerste gedeelte van de route richting Potzena over de snelweg gereden dit schoot lekker op.
In de buurt van Potzena besloten een lokale weg te nemen om wat rustiger te kunnen rijden, de omgeving was schitterend met prachtige vergezichten.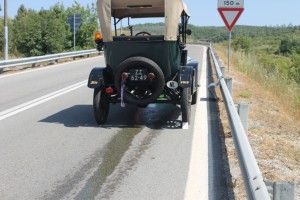 De T Ford dacht er anders over en begon spontaan te koken, wachten en koelvloeistof bijvullen, het was maar goed dat de volgauto niet in Napels stond.
Nu begon de echte uitdaging door de bergen met een kokende T Ford, wachten, motor afkoelen, moterkap en lucht filter eraf gehaald om stukje bij stukje verder te komen .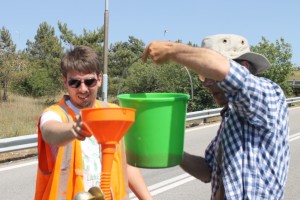 En als je alles gehad heb is er ook nog geen camping te vinden in de buurt, maar door de doorzeting van Trudy die op deze momenten al haar charme in de strijd gooit en rust van Dirk, is het toch nog goed gekomen.
Trudy wist weer mee te rijden met een aardige meneer die Trudy naar een prachtig Bed and Breakfast bracht, we werden voortreffelijk ontvangen, heerlijke bedden een voortreffelijke diner met muziek.
Het huis lag boven op een berg met prachtige vergezichten.
Zo zie je maar weer als je denkt 'hoe moet dit goed komen' is er altijd weer een oplossing, al met al voor ons allemaal een hele belevenis.
De volgende dag gaan we weer verder richting Bari.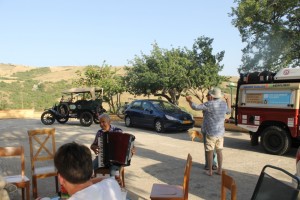 Sjaak Regter