Verslag van Maandag 9 juli 2012
Today we drove from Potenza to Monópoli, and passed the 3.000 km. Between Potenza and Tricarico we drove along a route with beautiful sceneries. While driving up the mountains the Model T again became quite hot, so we had to stop several times to cool down. This was quite hard with outside temperatures around 35 degrees Celsius. In Monópoli we are on a campground with beautiful sight on the Adriatic sea.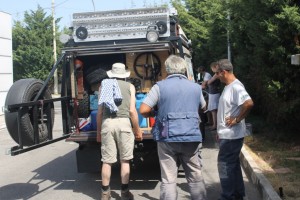 After breakfast in the B&B in Potzena Dirk attempted to arrange the crossing from Greece to Egypt. This turned out to be quite a challenge. The ship is leaving on day earlier then expected, and the cars have to be in the harbor a day before departure.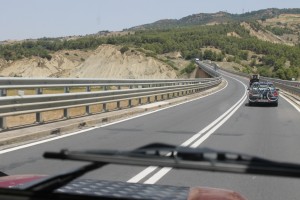 Tussen Potenza en Tricarico hebben we een erg mooie route gereden tussen de bomen en met uitzicht op het dal waar ook de Bed & Breakfast stond. Na Tricarico zijn we weer de grote weg op gegaan. We moesten een lang stuk steil omhoog rijden, waardoor de T Ford het weer erg warm kreeg en we een paar keer moesten stoppen om af te koelen (wat niet erg snel gaat als het buiten 35 graden zonder een zuchtje wind is). Op een gegeven moment heeft Dirk de motorkap er af gelaten en zijn we rustig verder gereden, wat goed is gegaan. Vandaag zijn we zelfs de 3.000 km grens sinds de start van de reis gepasseerd!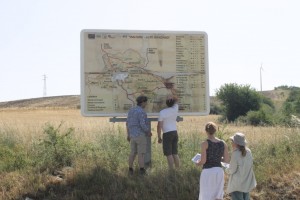 Naarmate we dichter bij de kust kwamen werd het land gelukkig vlakker. Dichter bij Bari werd het ook drukker en haalden de Italianen de meest gewaagde inhaalacties uit. Uiteindelijk zijn we veilig aankomen in Monópoli op camping Atlantica. Hier kunnen we genieten van een prachtig uitzicht op de Adriatische zee.
Petra de Wit