Zaterdag 11 augustus
Tombos-Kerma-Dongola – 121 km
Near Tombos we have visiting a statue of the black Pharaohs Taharqa. We do shopping on the market in Kerma. The people here don't look only with the eyes,
they even have colored the T-Ford with blue paint. Fortunately we can clean this with water.
We visit the "Defuffa"old building made by row bricks,probably the holy place of the Kerma Civilisation (3000 B.C).
We cross the Nile on the bridge to reach the town Dongola.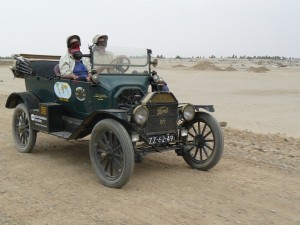 Om half acht zijn we onderweg. Na 1 kilometer stoppen we om het standbeeld van de zwarte
Farao Taharqa te bekijken.
Terwijl Dirk bij de auto's blijft, doen wij inkopen op de markt in Kerma.
De belangstelling voor de T-Ford lijkt niet altijd even goed bedoeld.
Mensen kijken helaas niet alleen met hun ogen en besmeren zelfs de T-Ford met blauwe kleurstof, die er gelukkig met water afgaat.
We bezoeken de historische vindplaats van Kerma, waar de overblijfselen zijn van het uit kleisteen opgetrokken "Defuffa"
gebouw staat. Dit is waarschijnlijk de heilige plaats van de Kerma beschaving van 3000 jaar voor Christus.
Het hotel ligt op een mooie plek net even buiten Dongola, maar de prijs voor een kamer,waar de douche en de airco het niet doen, vinden we veel te hoog.
Ghalid regelt dat we achter een brommertje aan kunnen naar een ander hotel, waar de airco het doet en uit de douchekop heerlijk water komt.
Met een riksja crossen we heel Dongola door op zoek naar een internet. De derde poging is raak en eindelijk kunnen we de verslagen opsturen.
Ben en Joke