Sunday 21th October 
Today is Willy's birthday, so we make a phonecall and sing happy birthday for her.
Today we go to Mfue, about 130km north,
We leave the Model T at this campsite for 2 days and go with the LandRover, to Mfue to do a Safari inSouthLuangwaNational Park. 
Dirk adjusts the steering of the Ford. 
And after this we cover the Ford and at 13:30 we go. 
The first 40km is tarmack, after this all is Offroad.
After 4hours bumping we arrive at the Campsite.
Elephants are walking around and destroyed the furniture of the neighbours.
We decide to put the tent in a 'tower' a very nice and safe place.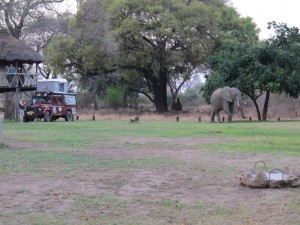 Today we did 130km, we go to bed early. Tomorrow at 6 we go on safari! 
DJ