We get up early today,6:30. Now that's vacation..
The mascotte 'Kees' from the Beijing to Paris trip in 2007, is mounted at the dashboard. He's ready for it!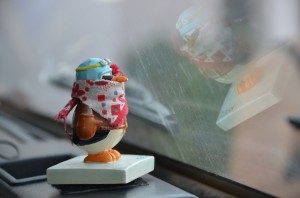 Packing the suitcases on the roof of the LandRover is like a puzzle, but in the end there is room left for 1 suitcase, good job!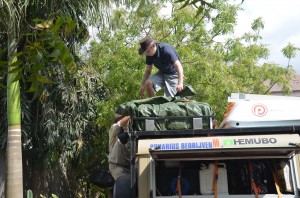 At the parking of the Hotel there is a guard, who likes to talk a lot and is a big fan of the model-T. We make him a picture and Dirk print it immediately with the mobile printer. The guard is flabbergasted when he gives him the picture, magic. He puts it in his pocket and shows it to everybody.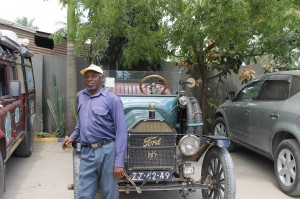 Getting out of the city is a hell of a job, lots of traffic and all kinds of sailsmen around the cars. They sell really everything.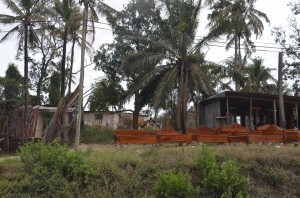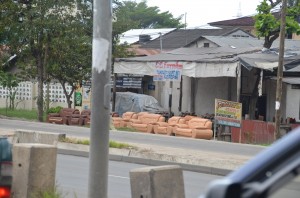 The reactions of the people who see the Ford driving is real fun to see. Big waving and smiles. When you drive behind the ford it's nice to see this.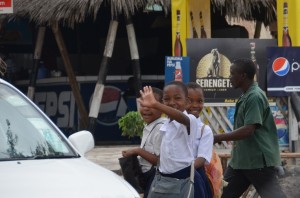 Outside the city we can put up the speed, ist around 65km per hour.
Inge has a shocking moment when a big truck comes right in front of her, he is on our side of the road with high speed. At the last moment we can go on the side of the road and we have to relax a bit.
Crazy African truck drivers…

When we stop for a cup of coffee, a couple of children come to us. When Dirk does a little dance they join him with big smiles.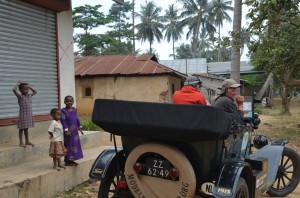 When we arrive at Morogoro, a guy stops and offers to show us a campsite, when we follow him to the office, we have a nice 3km offroad trip. The Ford runs a little hot, and Dirk removes the hood for more cooling.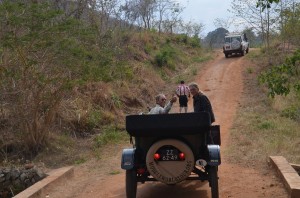 De T-ford krijgt het er warm van en Dirk haalt de motorkap er af om meer koeling te geven aan het blok.
When we arrive at the office, it seems that there is not really a campsite, but we can place our tent around the building, the folder says its only for full self supporting campers. The price is 30USD per person per night. That's too much.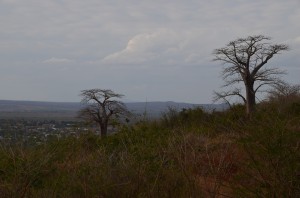 The guy brings us to a Hotel, run by a Canadian lady, 65UDS per room per night, but we can camp for free in the garden. So we put up the tent there.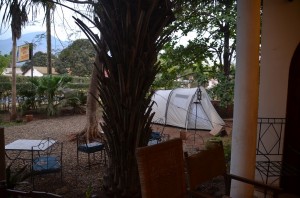 There we had a nice dinner,
It was a beautiful day, we driven about 200km,
Tomorrow a new day.