Tuesday 9 October
Today is a rest day. No driving.
This night we used the sleeping bags for the first time. That's because it's 1800m above sea level.
Trudy does the laundry, the water is heated by a wood fire. Works perfect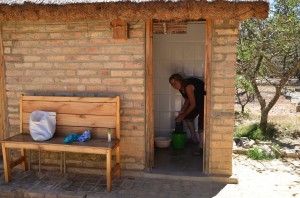 Dirk-jan and Inge are working on the reports for the website.
The mattress is still leak, today we try a type of glue..
Dirk has edited the routing of the fuel piping. Now it's totally outside the chassis U-profile. So less heat of the exhaust.
After winning some information, we decided to edit the route throughZambia, first we want to go toMalawi, ride beside the Lake, and go more south into Zambia heading Lusaka.
We end the day by tasting different kinds of African beer