Report 22 July
Report by Simon and Karin
After a journey of 53 hours, by airplane from Amsterdam via Madrid and Lima to Cusco and from Cusco by night bus to Ayacucho, we, Karin and Simon, finally arrive at the hotel were we are warmly welcomed by Trudy and Dirk. After we refreshed ourselves we are invited to stick our names on car we will drive the coming four weeks.
Dirk handed over the keys and asked us to take good care of the car.
In the evening we went to see the historical centre of Ayacucho, this city has an old university which was established in 1677. Ayacucho is situated at an altitude of 2750 meters and counts 150.000 inhabitants. In the centre there are beautiful churches decorated in the European Rococo style with lots of gold plated ornaments. There is also a central square surrounded by streets with houses in the colonial Spanish style with wonderful balconies. We find a restaurant on the first floor with a nice view on the square and enjoy our first Peruvian meal after which we are glad to see our beds in the hotel.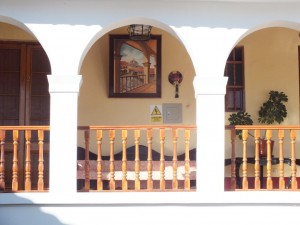 Hotel