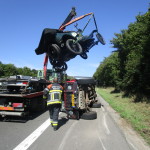 The end of the Model T Worldtour??
At the end of August our dream collapsed when our Model T  and Landrover were damaged in a freak accident on the highway in Belgium.
Luckily we came away without serious injuries which is a miracle.
But to continue the Model T Worldtour we need the help of all our classic car friend all over the world. You can support us by choosing one of the options below.
The surplus of the donations goes to SOS Children's Villages International.
"Sticker Friends" of the Model T Worldtour



Multiple sticker buyers:
Space City T's Houston: Space City T's Houston
Car Magazine Carphile United Kingdom: http://carphile.co.uk
Ford Piquette Avenueplant Detroit: Ford Piquette Avenue Plant
A-Ford Club Nederland: AFCN
Model T Ford Club of America (MTFCA): Richmond IN, USA MTFCA
Hyman Ltd Classic Cars: St.Louis MO, USA  Hyman Ltd Classic Cars
Dougal Cawley: Longstone tyres, England  Longstone tyres
MCAAC: Manitoba Classic and Antique Auto Club, Manitoba Canada  MCAAC
Carrosserie bouw Jansen: Wesepe, Holland  Carr. bouw Jansen
Reparatieservice J.L. van der Wouden: Zevenhuizen, Holland  vd. Wouden
Radiateurenbedrijf Blaak: Heinenoord, Holland  Blaak
Track Engineering: Cruquius, Holland  Track Engineering
PreWarCar  PreWarCar
———————————————————————————————————-
Further stickerfriends:

Chris Beauchemin: Victoria, BC, Canada
Svenja Iven: Pulheim, Germany
Attila Major: Érd, Hungary
Brian Broscoe: Hickory Hills, Il, USA
Space City T's Houston: Texas, USA
Nel Schilder-Bakker: Edam, Holland
Jaro Regter: Amsterdam, Holland
Roel Jonkman: Purmerend, Holland
Ron van Driel: Geldermalsen, Holland
Daan Bode: Heerewaarden, Holland
Robert Joosten: Varik, Holland
Timothy Basnight: Holly Springs, NC, USA
Alberto Cioni: Bologna, Italy
Mark Richardson: Dublin, Ireland
Bruce Mc.Lean: London, United Kingdom
Sandra Uidam: Marken, Holland
Gérald Schrijver: Alkmaar, Holland
Leo Mulder: Purmerend, Holland
Thomas W.Strickling: New Philadelphia, OH, USA
Jeong Sik KO: Seoul, South Korea
René & Lucie van Engelen: Lopik, Holland
Haw Scadding: Derbyshire, United Kingdom
Johnie Thompson: USA
Michael Hanson and family: Kingwood Texas, USA
Kim Hollis:  Lancaster, Kentucky, USA
Eric Sole Hellige: Barcelona, Spain
Shiqi LIU: China
Stanislav Hanzhin-Tsvetkov: Saint-Petersburg, Russia
Thomas Kasper: Livonia, Michigan, USA
Jing-Lin Wang: China
Amine Bouchareb: Amsterdam, Holland
Michel Crambuer: Mont morency, France
Vincent Gal: La Chiesaz, Switzerland
Niilo Säntti: Monhijärvi, Finland
Bill Hall: Derbyshire, United Kingdom
Olavo Carvalho: Brazil
John Veltrop: Holland
Daniel Fernandez: Santa Clara, California, USA
Lloyd Orr: Rolleston, Cantaerbury, New Zealand
Alberich Lodron: Himmelberg, Austria
Rob van Helvoirt: Waalre, Holland
Darrin Reesal: Cresent, Ottowa, Canada
Robert Hines: Bloomfield Hills, Michigan, USA
Alex McLellan: Oakville, Ontario, Canada
Oscar Daniel Rego: Vriezenveen, Holland
Steven & Angela Johnson: Michigan, USA
Michael Bennett: Novi, Michigan, USA
Smallcomp: Taylor Michigan, USA
Radhakrishnan G: Tamil Nadu, India
Hans van Oort: Köln, Germany
Geoff Cooper: Victoria, Australia
Juha Kaitanen: Turku, Finland
Sergey Dorokhov: Voronezh, Russia
Terri Brown: Tamassee, South Carolina, USA
Gideon Pertzov: Raanana, Israel
Dolores Olsofka: Forest Park, Illinois, USA
Charles Hoffman: Boiling Springs, Pennsylvania, USA
Matina Beyer: Pulheim, Germany
Patrick McLaughlin: Weston, Michigan, USA
Fredrik Lägermo: Norrköping, Sweden
Jaap Booij: Heerhugowaard, Holland
Teo Diaz-Gonzalez-Rivero: Caracas, Venezuela
Phee Cheah: Quakers Hill, NSW, Australia
Paul Petty: Louisville,Kentucky, USA
Jon Ruyle: Tulsa, Oklahoma, USA
Shannon A. Clements: Dearborn, Michigan, USA
John Oberg: Munising, Michigan, USA
Gene Young: Owensboro, Kentucky, USA
Ron Tipton: Owensboro, Kentucky, USA
Henrik Petterson: Bleket, Sweden
Charles Mapp: Arlington, Texas, USA
David L. Gaskins: Lawtey, Florida, USA
Henk & Mariette Fokkink: Haarlem, Holland
Dale Ice: Point Arena, California, USA
Russel Snider: Bay Shore, New York, USA
Michael Strödick: Wehr, Gemany
Javzandulam Sodnom: Ulaan Bataar, Mongolia
Shinebayar Ochirtogoo: Ulaan Bataar, Mongolia
Irene Jongmans: Ruurlo, Holland
Ria & Huub Waterbeek: Amstelveen, Holland
Natascha & Julie van der Meijden: Heemstede, Holland
Barry Vrijbloed: Middelie, Holland
Dennis Jonk: Purmerend, Holland
Boris & Sterre Hoekstra: Schermerhorn, Holland
Arie & Alie Koorn: Edam, Holland
Jan Pieter Scherpenhuijsen: Oudendijk, Holland
J.Thedinga: Emmen, Holland
Hidde & Didde Bredenoord: Klarenbeek, Holland
Peter Verhoeven: Vuren, Holland
Albert Remijn: 's-Heerenhoek, Holland
Wil Jongedijk: Wierden, Holland
Jan Deurloo: Bruinisse, Holland
Aart Jan Nieuwhoff: Helmond, Holland
Peter v.d. Brom: Utrecht, Holland
Simon Koert: Rotterdam, Holland
Jan Bossink: Ootmarsum, Holland
Balt Oskam: Lekkerkerk, Holland
René Hillebrink: Beekbergen, Holland
Cees Kooyman: Mijnsheerenland, Holland
Toon Boer: Klaaswaal, Holland
Arie van Dalen: Ermelo, Holland
Slagerij Dick en Griet: Purmerend, Holland
Jan Spaans: Heemstede, Holland
Klaas Hopman: de Purmer, Holland
Frank Nelissen: Venray, Holland
W.U. Hoekstra: Hilaard, Holland
Guido Pearce: Amstelveen, Holland
Wim Hop: Eemdijk, Holland
Pius Schilder: Volendam, Holland
Lucia Moncayo Teran: Ushuaia, Argentina
Guillermo Watson: Córdoba, Argentina
Chris Roorda: Rotterdam, Holland
Bart Roorda: The Hague, Holland
Ewout Donker, Holland
Fokke Hofman, Holland
Dick Vis, Holland
Kees Peperkoorn, Holland
ERK Motorservice, Holland
Nico Tol: Volendam, Holland
Fred & Gerda Verniers: Edam, Holland
Rutger & Francina Booy: Holland
Gea Karhof: Edam, Holland
Daan Veldmaat: The Hague, Holland
Ian Leighton-Boyce: Brimscombe Stroud, Gloucestershire, England
William Thompson: Preston, Lancashire, England
Folc-dance group Edam, Holland
Theo & Margriet van Tienhoven: Edam, Holland
Brian Ladage: Winnipeg, Manitoba, Canada
Daniël Bollo: Córdoba, Argentina
Piet & Meta Duif: Edam, Holland
Joost Roorda: The Hague, Holland
Ton van der Zee: Roodeschool, Holland
John Colley: Conway, England
Quinten Buijs: Bilthoven, Holland
Henk Goede: Volendam, Holland
Pieter De Goede: Enschede, Holland
Roger Horsfield: Surrey, England
H.Dijkstra & E.Dijkstra-van Zaanen: Edam, Holland
Frazer Sloan: Hertfordshire, England
Henk Fortgens: Blaricum, Holland
Jan & Karin Roorda: Lekkerkerk, Holland
John Guyomar: Gumdale, Queensland Australia
Gareth Williams: Oakham, Rutland, England
Henk Noteboom: Gramsbergen, Holland
Willem Hiddinga: Nijverdal, Holland
Diederik van Bouwdijk, CarCollectables: Holland
Warren Henderson: Dunbarton, NH, USA
Marc van den Broeck: Oud-Turnhout, België
Bryne McKay: Winnipeg, Manitoba, Canada
Carrosserie bouw Jansen: Wesepe, Holland
Phil Corderey: Bangor, Isle of Angle sey, England
Ton Wieferink: Edam, Holland
Gijs Günther: Edam, Holland
Peter Ruetimann: Switzerland
Rick Jorgensen: Orting WA, USA
Michael Muller: Queensbury NY, USA
Felipe Gallego: Woolgoolg, Australia
Richard Weid: Manchester MI, USA
Gerard Lansink: Oldenzaal, Holland
Thomas Hammersdorf: Schorndorf-Weiser, Germany
Bruce Duncan: Wahroonga NSW, Australia
Lynne Weber: Aiken, USA
Volker Wissemann: Marburg, Germany
John Elema: Roodeschool, Holland
Peter Verweij: Westmaas, Holland
Kevin & Jacqueline Bates: Benningbroek, Holland
Richard Tweedie: Gladstone, Qld, Australia
Stuart Marshall: Gladstone, Qld, Australia
Chris & Michelle Bamford: Edmonton, Canada
Sjaak Regter & Coby de Wit: Purmerend, Holland
Paul Horch: Winnipeg, Manitoba, Canada
Anton & Mary Ann Hajek: San Antonio, Texas, USA
Arno Stuyts: Medemblik, Holland
Haydn Nicolaas: Perth, Australia
Michelle Rose: Perth, Australia
Arie J.Koortens: Schoorl, Holland
Jan & Lenie van der Wouden: Zevenhuizen, Holland
Rick Nicolaas: Den Haag, Holland
Willem Crone: Rotterdam, Holland
Kees Veerman: Huijbergen, Holland
Ank Gouverneur: Laren, Holland
Gerda Schouten: Heerhugowaard, Holland
Truus Fokken: Laren, Holland
W.Roorda-Butzelaar: Purmerend, Holland
Sam & Eleanor Humphries: Lexington, KY, USA
Fokke & Tjitske van den Akker: Workum, Holland
Danny Nibbering: Koog a/d Zaan, Holland
Marc van der Linden: Barendrecht, Holland
Fam. Snel: Baarn, Holland
Jurgen Ligthart: Ridderkerk, Holland
Tiny Bakker: Edam, Holland
Femke Regter: Edam, Holland
Floris Schouten: Edam, Holland
Gerda Muelink: Edam, Holland
Steef & Greetje Reilingh: Edam, Holland
Henk & Nel Eijk: Edam, Holland
Eric Gorissen: Maarheeze, Holland
Wouter ten Hagen: Edam, Holland
Frank Ross: Las Vegas, USA
Ulrie Gunter: Edam, Holland
Joris Bergsma: Amstelveen, Holland
An Regter-Poppelaars: Edam, Holland
Dirk-jan Regter: Edam, Holland
Simon Regter: Edam, Holland
Rozemarijn Regter: Edam,Holland
Siemen Roorda: Maassluis, Holland
Nico Broers: Nieuw-Vennep, Holland
Rob Plevier: Purmerend, Holland
Casper Maas: Volendam, Holland
Joris de Wit: Beemster, Holland