Newsletter Model T Worldtour May 2023.
Dear Friends of the Model T World Tour.
Now that traveling through China is possible again after the Covid-19 pandemic, we are resuming our world tour.
In the spring of 2024 we plan to start in Beijing with the last leg of our world tour. The intention is to make this another wonderful journey of more than 11,500 miles through Central Asia, Central- and Western Europe back to Holland.
We are currently busy preparing the Model T Ford. The engine is still apart due to problems with the crankshaft. Hopefully we can make our first drive with the Ford again soon.
The Landrover will also join us as a support vehicle. Two enthusiastic teams have already agreed to travel with us in the Landrover for four weeks.
Below you will see a map with the approximate route to be driven.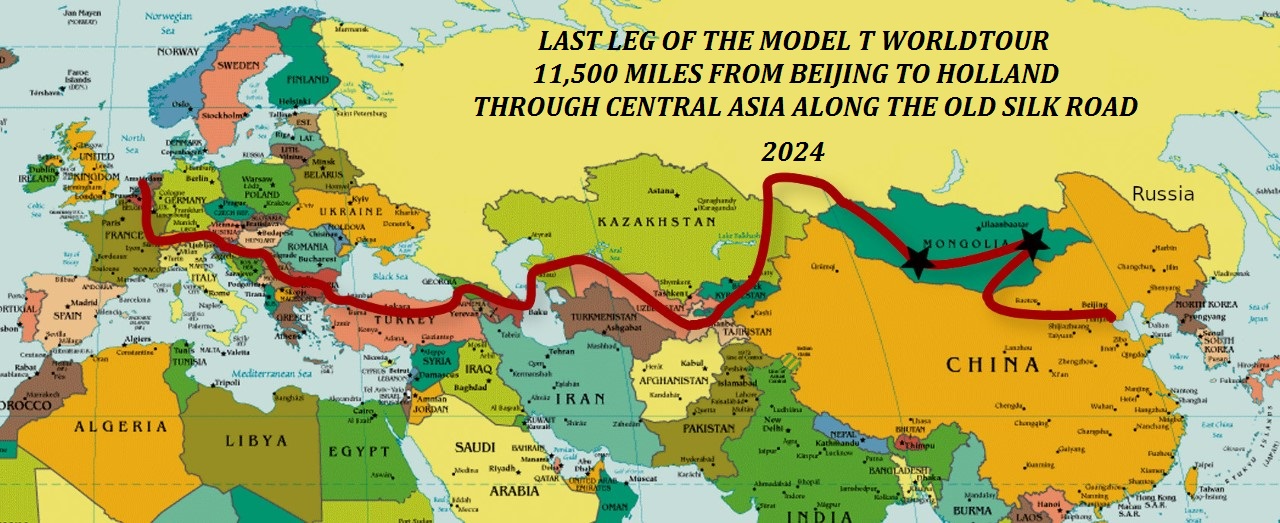 China Tajikistan Turkey Austria
Mongolia Uzbekistan Bulgaria Switzerland
Russia Altay Caspian Sea Serbia France
Kazakhstan Azerbaijan Croatia Belgium
Kyrgystan Georgia Slovenia Holland
With this trip we raise money for two children's projects:
in Baruun-Urt and Bayankhongor in Mongolia.
Do you also want to donate? Then click the red button below.
We thank you in advance for your contribution and will keep you informed of the preparations for this trip.
Trudy and Dirk Regter.