Report 27 October
By Liza
We leave Caleta Olivia and drive towards Trelew and drive along a beautiful coastal road.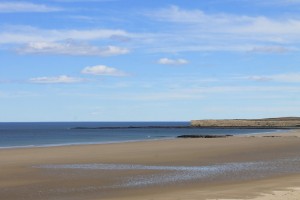 .
During the trip we meet once and a while a gaucho. Mostly they have more dogs, but this man had only one.
Not only do we meet a gaucho. Suddenly a lamb is running on the busy road, where big trucks drive very hard. We stop the cars and on the other side a big truck is stopping too. We get out and try to send back the lamb to the other side of the fence and look around if we can see other sheeps. But no sheeps anywhere. Wouter puts the lamb back behind the fence, but the lamb runs back.
A car stops at the Model T and we hope that this men will help us, but they just want to make a photo with themselves together with the Model T.
We decide to take the lamb with us and hope for a flock of other sheep. Again we try to put him back behind the fence, but he keeps running back. We take him with us and drive for 200 km with the lamb to the direction of Trelew.
Today we drove 500 km an we arrive late in Trelwe, where we find a very nice hotel where Angelo helps us very good, but we still have the lamb. On our way to the hotel I saw a animal clinic which seems to be open. We drive back but now it's closed. I ring at the neighbours door, they hear about the story and they get a great idea to have to lamb for dinner or that we sell it for 1000 pesos (around 100 euro). His wife disagrees and advices us to give the lamb to the police who are in a car just a little bit further on the road. The man takes the sheep and walks to the police. Our friend the lamb, which we called Klaas, is going to a crèche, so they tell us. Bye Klaas!