Report July 27
By Dirk
This morning we arrived at Schiphol after a flight of over 21 hours from Brisbane, via Singapore to Amsterdam.
We were met by our son Dirk-jan, daughters Rosemary and Willy and 4 of our grandchildren.
They had made a beautiful banner with Welcome Home on it.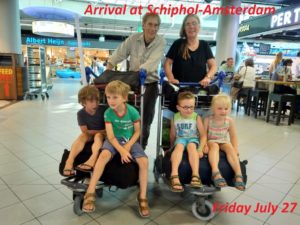 This ended our wonderful journey through New Zealand and Australia.
Seen a lot and met a lot of lovely people.
Thank you for this.
We hope you enjoyed our travel reports on the website and thank everyone for the nice comments on our stories.
Dirk and Trudy